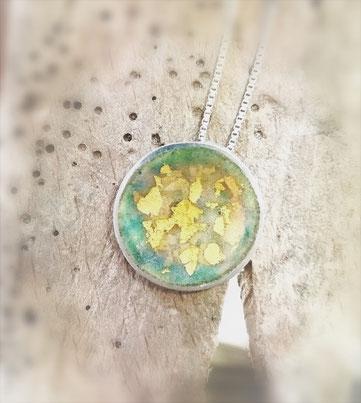 So my neighbour visited me in my workshop a couple of weeks ago and wanted to have a snuffle around.  As I was busy making the coffee, I found her shuffling through my scraps pot of items destined for recycling.  This is usually those items that I created with a good idea but found the completed item not worthy of my discerning clientele.  
Wow she exclaimed, I love this.  I explained that items in that pot are items requiring more product development before they can be seen in public.  She insisted that I carry out that product development further and present her with a finished item....which I did.
My neighbour is more than happy with the completed item.  It is a silver disc, domed.  Then layered with enamel and gold leaf to create this wonderful one-off pendant.  Needless to say, the whole process has inspired me to create a new collection.